The GuardMe solution: lone worker protection in Bosch quality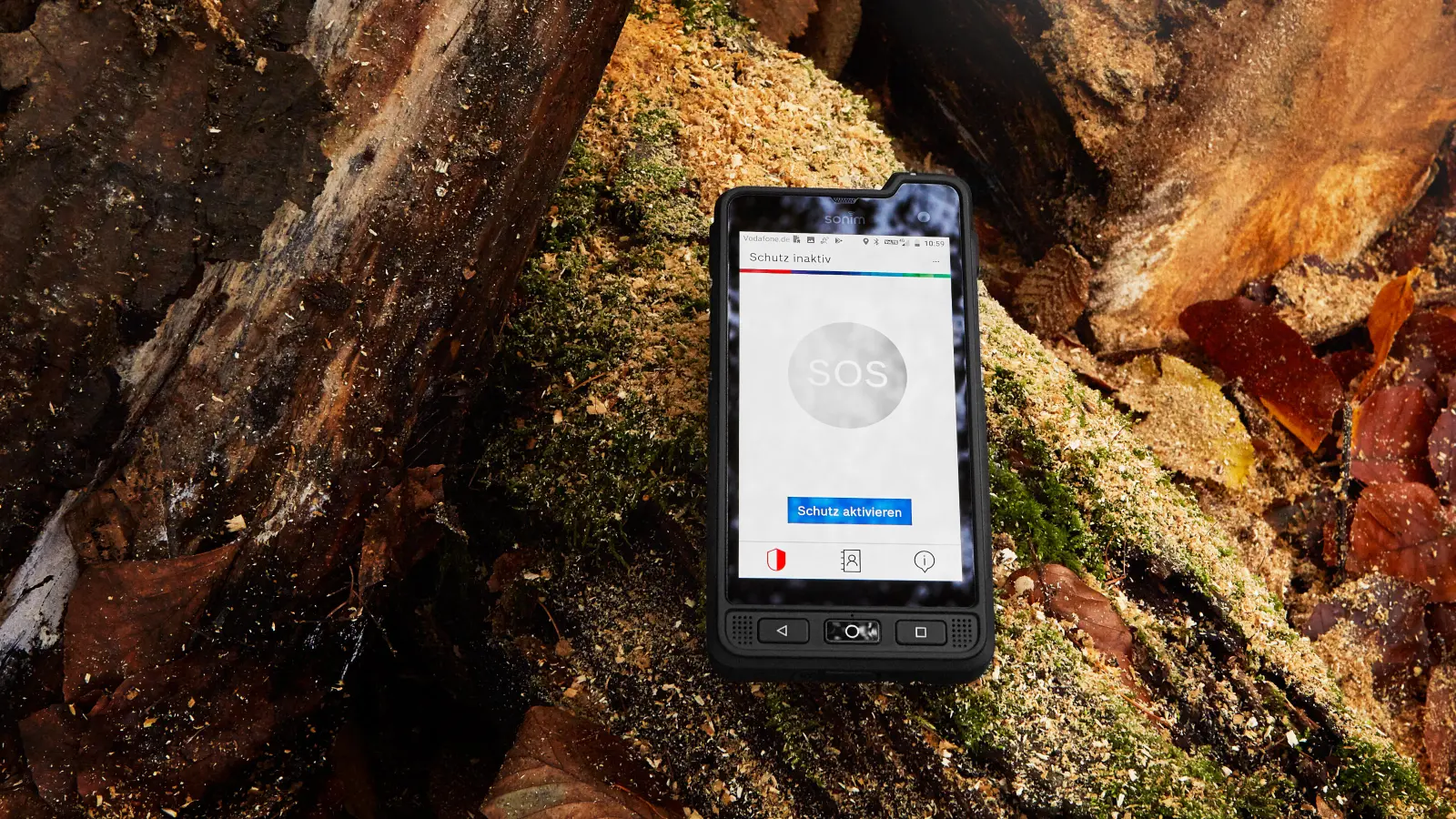 Immediate assistance, when it matters – with Bosch GuardMe
Employers can protect their lone workers very easily using a special smartphone and the Bosch GuardMe app. As well as actively triggered alarms, the solution also automatically detects emergencies such as falls, extended periods of no movement, or failure to respond over a long period. In an emergency, the app triggers an alarm and initiates a voice connection with the Bosch Monitoring Center. Our associates provide professional around-the-clock support in this situation to lone workers in need.
This makes it possible to gather important information about the accident directly, and convey it immediately to the emergency services when they are alerted. When an alarm is received, the Monitoring Center associates are also automatically sent the lone worker's last known location to make it easier to find them even in remote areas. Our Monitoring Centers work closely with a comprehensive network of assistance services such as fire departments, rescue services, and police stations. Smooth processes are a basic requirement for ensuring the fastest possible first aid.
As one of very few app-based solutions, Bosch GuardMe is certified according to DIN VDE V 0825-11 "Device and testing requirements for personal emergency signal systems using public telecommunication networks" by DGUV Test and has been awarded the internationally recognized GS sign for "tested safety".
With Bosch GuardMe, you as an employer can be sure to have your lone workers in good hands at any time.
Components of the Bosch GuardMe solution:
1. The special smartphone Sonim XP8 with the Bosch GuardMe app
The Bosch GuardMe app transforms an Android smartphone into a personal emergency signal system that provides complete protection for lone workers. The app's simple, intuitive interface makes it extremely user-friendly. The app has a panic button that can be used to trigger an alarm at will, in other words intentionally. It also has automatic alarm functions, triggered using the smartphone's sensors. Each device is custom configured as to which automatic alarm functions should be activated. The aim is to optimally protect the user from the risks inherent in their respective activity and place of work.
The alarm functions of Bosch GuardMe
Panic button
Triggers an intentional alarm and alerts the Monitoring Center
Position alarm
Based on the inclination angle of the personal emergency signal device worn on the body within a defined period
Non-movement alarm
Based on the motionlessness of an at-risk person within a defined period
Time alarm
Based on the failure of an at-risk person to provide an acknowledgement within a specified time
Fall alarm
Based on a combination of acceleration and position
Connection monitoring
Triggers a warning if the connection between the device and the Monitoring Center is interrupted
Meets all safety standards: the special smartphone Sonim XP8
GPS, AGPS, GLONASS, BelDou
Waterproof: 30 minutes down to a depth of 2 meters, dustproof, protected against microparticles
Particular protection against being dropped, vibrations, moisture, fluctuations in atmospheric pressure and temperature
5'' Gorilla Glass, touchscreen, resolution of 1080 x 1920 pixels; can be operated while wearing gloves
Standby time: 450 hours, 2G/3G talk time: 480 minutes/420 minutes
Amplified speaker for use in loud areas or at a distance
G sensor, L sensor, P sensor, gyroscope, magnetic sensor, atmospheric pressure sensor
Separate red SOS button on the device as required by the German Social Accident Insurance Institutions
Reliable location finding – indoors and outdoors
In mobile or outdoor applications, GPS satellites are used to find the location of lone workers in case of an alarm. In defined indoor areas, for example in production plants and storage facilities, the positioning accuracy can be increased by installing Bluetooth beacons.
One solution for all functions on a smartphone
The Bosch GuardMe app combines the functions of a smartphone, such as making calls and sending messages, with a personal emergency signal system in one device. Other Android-based company apps can also be easily installed on the device. The benefit is that your lone workers only need one device for all their activities – this greatly increases employee convenience, since they do not need to carry any other mobile-based devices. After all, a personal emergency signal system can only do its job if it is carried at all times.
2. Professional handling of incoming emergency calls – around the clock: the Bosch Monitoring Center
The Bosch Monitoring Center is staffed 24 hours a day by specially trained personnel – 365 days a year. In an emergency, the GuardMe lone worker protection solution sends an alarm message containing all the key information about the incident. In addition, a voice connection between the device and the Monitoring Center is automatically established so that details about the circumstances of the accident as well as the type and severity of the injuries can be assessed.
The Bosch Monitoring Center is certified to EN 50518 as an alarm intervention center as well as to VdS 3138 as an alarm provider and alarm service. It features a fail-safe setup with multiple redundancies to enable professional emergency call handling even in the event of technical malfunctions or power failures.
3. Fast assistance on site: our comprehensive network of assistance services
In case of an alarm, the associates in the Monitoring Center trigger the rescue chain, for example by alerting the rescue service, the fire department, or the police. In addition, other entities nominated in advance can be notified, such as first aiders, plant security, or the site fire department. The individual alarm chain is defined in an action plan for each activated device.
All the benefits at a glance:
Immediate assistance to lone workers in emergency situations
Innovative mobile app, that meets all safety standards
Easy-to-use thanks to intuitive user interface
24/7 emergency call handling through professionally trained Monitoring Center staff
Determination of the employee's location - indoors and outdoors
Certified as a lone worker protection solution through the German Employers' Liability Association, DGUV Test
Proven Bosch quality
Why Bosch is the right partner for you:
Certified safety
Bosch GuardMe is certified in accordance with the requirements of DIN VDE V 0825-11 for personal emergency signal systems and thus meets the highest safety standards.
Fast assistance
Our 24/7 monitoring centers can look after your lone workers around the clock. We initiate immediate assistance in an emergency.
High convenience
Bosch GuardMe combines communication and lone worker protection in one device
Looking for a custom solution? Talk to us!
Do you already have a personal emergency signal system that you want to connect to a professional Alarm Receiving Center? Or are you a provider of personal emergency signal systems and looking for a reliable, certified Monitoring Center? We will be happy to advise you on custom solutions.
Talk to us: